I often have clients ask me about my own children.  I have 3 little ones ages 9, 6, and 4.  Last week before we were struck down with a horrible flu I took them out for a photo session with just them.  I used to do this all the time, but since my business has picked up I do it less and less.  You may think it's easier to take pictures of my own kids, but it is much much more difficult.  I have to work extra hard to hold their attention, and getting eye contact with a couple of them is like finding the cure for the common cold: next to impossible.
I would like to formally introduce you to my 9 year old. 
In public she is very shy and reserved, but with people she is comfortable with she's a spitfire. She will tell you exactly what she thinks.
When she was born she screamed for 2 hours straight.  Tim combined that with her red hair and called her his firecracker.  She hasn't changed since.
She's extremely smart, and often surprises us with the things that come out of her mouth.
She's a voracious reader, and I often have to take books out of her hands to get her to go to sleep or do something around the house.
She's fiercely protective of her brother and sister if she thinks they are in danger or being bothered by someone.
She plays the piano and is pretty good at gymnastics.
She loves her friends, and lets me know everything they are up to together.  I know this won't last too much longer, and I'm going to cherish it as long as I can.
She's a perfectionist at most everything she does.  If she can't do it perfectly she doesn't want to do it at all.  I can't really blame her for that one.  She comes from a long line of perfectionist women.  Poor girl.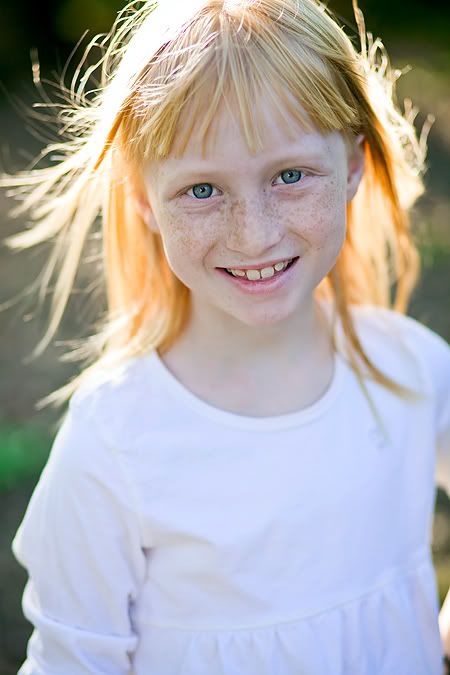 When she was in kindergarten a cute little blond boy told her he liked her because she had skinny arms and polka dots on her face.  She hates those polka dots, but gets compliments on them all the time.
I love her because of who she is. Firecracker and all.